Worldwide
Top Backpacking Destinations
Booking Guarantee
Your booking 100% confirmed. Any problems and we'll give you $50.
More information
Going backpacking?
Check out all the Hostelworld.com backpacking tips on our blog, podcasts, backpackers travel guides and videos. Start your backpacking adventure with Hostelworld.com and choose from thousands of backpackers hostels worldwide.
Start your adventure with Hostelworld
reliable - safe - guaranteed
Backpacking with Hostelworld.com
Embarking on a backpacking trip? Well cast aside any fears about your accommodation, Hostelworld.com is the only way to travel. We've a selection of backpackers hostels from luxury, romantic, eco friendly to the best party spots.
Types of Backpackers Hostels
Hostelworld.com has more than just backpackers hostels you can also choose from a great range of unique local accommodation: riads in Morocco, homestays in Asia, beach huts along the pacific, eco lodges in South America and capsule hotels or traditional Ryokans in Japan.
Tips for backpacking alone
Are you about to set off on your backpacking travels all on your lonesome? Feeling a bit daunted about backpacking alone? Check out our tips to make that trip much more enjoyable
Open up to fellow travellers!

Take advantage of the common areas in hostels and the chance of meeting new people! Don't sit there with your head buried into your guide book, or zoned out by your iPod – make eye contact with fellow travelers and say hi.

Stay in smaller dorms

They may be that little bit more expensive than the larger dorms, but by staying in a smaller dorm it makes it far easier to get to know your roommates. Whether it's a conversation about the person snoring in the top bunk, or where they got those trainers you love, you'll find it easier to speak to your roommates.

Go on organised tours

Book yourself on a tour and you're sometimes forced to introduce yourself to a group of people.

Volunteer at festivals and special events

What's going on in your next destination when you're there? Is there a festival you're going to catch? Better still, is there a way you can get involved?

Cook in the communal kitchens as much as possible

If you've somehow managed to not meet a single sole by taking our advice on the above two points, this one is foolproof – do lots of cooking in the hostel kitchens. After the weather, food is the world's most popular topic of conversation.

Go out, drink and be merry!

There is simply no denying the fact that the human race is a more sociable one once a few glasses of €2 wine and warm beer are consumed. Many hostels have bars so if they do, show your face and you'll meet people in no time. If you still don't fancy looking like a loner as you sit at the counter staring into your drink, see if there's an organised pub crawl going on.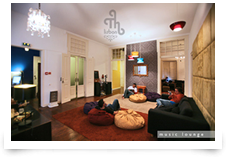 Things you didn't know about a hostel
1. Hostels have private accommodation as well as dormitories

Hostels are best known for dorms, but most hostels now offer private accommodation. Sometimes they are ensuite and even have TVs.

2. Many families use hostels

Hostels aren't only for young people as these days many families stay in hostels.

3. Unlike hotels, many hostels offer free WiFi

In hotels you usually need to pay for WiFi, but in hostels a lot of the time it's free, which is great for anybody travelling with a laptop.

4. The price usually includes your breakfast

Just like in hotels, in hostels the price usually includes your breakfast.

5. Lots of them have their own restaurants

You can dine in hostels as some have their own restaurants.

6. You can save time in cities by booking tours at a hostel's tour desk

Some hostels have tour desks where you can buy tickets for public transport, the city's top tours and more.

7. Some hostels even have swimming pools and saunas

A thing which a lot of people don't know is that some hostels these days even have their own swimming pools and saunas.
Backpacker Travel Features
Hawaii, the fiftieth US state, is the most remote island chain on the planet. We have hostels on 4 of the 6 inhabited islands. Oahu, Maui, Big Island and Kauai. Check out our top Hawaii Hostels and begin your Hawaiian adventure today.
Japan offers many unique experiences for travellers for example bullet trains & delicious sushi, but staying in a Japanese capsule hotel is one experience not to be missed. So check out our pick of top capsule hotels in Japan.