Hostelworld.com
Group Booking Terms and Conditions
Because you are making a Group Booking, there are additional Terms and Conditions that apply. Please read them and click 'I Accept' below to continue with your booking
General Group Booking Terms
By making a group reservation through Hostelworld.com you agree to the following terms and conditions as set by Hostelworld.com and as set by the hostel in question.
In order to make a group reservation on Hostelworld.com it is necessary to pay a deposit. The balance is due directly to the hostel according to their payment conditions.
The booking deposit is non-refundable.
Please note that any cancellations must be notified directly to the hostel at least 24 hours in advance of your scheduled arrival date, unless otherwise stated in the hostel's conditions.
Hostelworld.com are not responsible for changes or amendments to your reservation once it has been processed. All correspondence with regard to changes to your booking need to be dealt with directly with the hostel.
Cancellations for reservations must be made directly with the hostel and must conform with the individual hostels cancellation policy (see below)
It is your responsibility to pay the balance of your accommodation cost to the hostel in accordance with their payment conditions (see below). Failure to do so may result in your reservation being cancelled by the hostel.
Individual hostels may have special booking conditions relating to group stays, please read the hostel booking conditions carefully before making your reservation.
Hostel Specific Terms & Conditions
The remainder of the amount due will be charged to your credit card 3 weeks prior to arrival. Should numbers or room selection change, the per person deposit times the number of people who actually travelled will be deducted from the total accommodation charge levvied by the hostel.
The following group types are not accepted by this hostel: Stag/Hen/Bachelor Party If you have misrepresented the type of group you are booking for, your booking may be cancelled by the hostel."
Any cancellations resulting from agreement to these terms and conditions under false pretences will result in loss of deposit.
Per favore clicchi nella casella per mostrare di aver letto e capito i termini e condizioni.
É necessario accettare i termini e condizioni per confermare la prenotazione.
Cancellazione gratuita
Albergue O Fogar de Teodomiro is the first hostel in the old town of Santiago de Compostela, only 350 meters from the cathedral.

We are part of the chain of hostels ALDA Hotels, guaranteeing the best price, best location and best service.

You can enjoy a XVIII century 3-storey manor house completely renovated.
All rooms have views to the old town of Santiago de Compostela and ... FREE WIFI, FREE linen and fabric towels, FREE use of kitchen utensils, FREE maps and city information, FREE ...

What do we offer in our hostel?

BEDROOMS

Maximum hygiene and cleanliness of the rooms.

Spacious rooms with firm and comfortable bunk beds for the rest.

Wifi access in all rooms

SERVICES

Laundry facilities (washer and dryer)

Kitchen and cooking utensils.

Free Wifi throughout the house

Computers with Internet access and printer

Maps and tourist information

Lockers

24-hour access to the hostel

Free top-quality fabric sheets and towels

Free bicycles parking


Attractive design and great atmosphere to meet new people and have a good time with your friends

ALDA HOTELS has centers in different places along the Camino de Santiago. If you book with us, you or anyone you choose will enjoy a discount in any of our hotels!!
ALDA HOTELS is please if you decide to book with us. Visualizza regole della struttura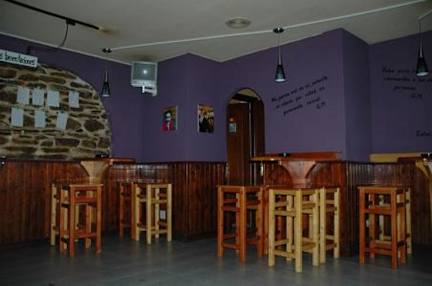 Accesso a Internet gratuito
Lenzuola incluse
Accesso con chiave elettronica
Armadietti a chiave
spazi comuni a disposizione
Deposito bagagli
Tours/Travel desk
---
---
La sua sessione è scaduta
La sua sessione è scaduta
Si prega di inserire la password per l'account <% email %>
Hai dimenticato la password?
×