Hostelworld.com
Group Booking Terms and Conditions
Because you are making a Group Booking, there are additional Terms and Conditions that apply. Please read them and click 'I Accept' below to continue with your booking
General Group Booking Terms
By making a group reservation through Hostelworld.com you agree to the following terms and conditions as set by Hostelworld.com and as set by the hostel in question.
In order to make a group reservation on Hostelworld.com it is necessary to pay a deposit. The balance is due directly to the hostel according to their payment conditions.
The booking deposit is non-refundable.
Please note that any cancellations must be notified directly to the hostel at least 24 hours in advance of your scheduled arrival date, unless otherwise stated in the hostel's conditions.
Hostelworld.com are not responsible for changes or amendments to your reservation once it has been processed. All correspondence with regard to changes to your booking need to be dealt with directly with the hostel.
Cancellations for reservations must be made directly with the hostel and must conform with the individual hostels cancellation policy (see below)
It is your responsibility to pay the balance of your accommodation cost to the hostel in accordance with their payment conditions (see below). Failure to do so may result in your reservation being cancelled by the hostel.
Individual hostels may have special booking conditions relating to group stays, please read the hostel booking conditions carefully before making your reservation.
Hostel Specific Terms & Conditions
The remainder of the amount due will be charged to your credit card on arrival. Should numbers or room selection change, the per person deposit times the number of people who actually travelled will be deducted from the total accommodation charge levvied by the hostel.
The following group types are not accepted by this hostel: Junior / Primary School, High / Secondary School If you have misrepresented the type of group you are booking for, your booking may be cancelled by the hostel."
Any cancellations resulting from agreement to these terms and conditions under false pretences will result in loss of deposit.
Per favore clicchi nella casella per mostrare di aver letto e capito i termini e condizioni.
É necessario accettare i termini e condizioni per confermare la prenotazione.
Cancellazione gratuita
The New Beats Hostel, Coworking & Lounge is currently under renovations and is expected to be open for business as of June 1, 2020. During renovations, reservations are being accepted.

The New Beats will feature a new reception desk, a fully connected coworking area and an entertainment lounge featuring karaoke & special events.

Our first concern is our guests' health and safety. In response to the recent pandemic, we have instituted health-specific policies for both staff and our clientele and provided our staff with special training to do our part to help protect the health and safety of everyone at The New Beats Hostel, Coworking & Lounge, our community and the world at large.

Continuing is our unwavering commitment to provide a safe, respectable, productive and enjoyable environment for our guests from wherever they may come for however long they may grace us with their company.

The New Beats Hostel, Coworking & Lounge is only two blocks from the famous Paulista Avenue, which is home to a small native forest park, the Parque Siqueira Campos, commonly called Trianon, and to the São Paulo Museum of Art (MASP - Museu de Arte de São Paulo). MASP is known not only for its excellent collection of European and national paintings, sketches, and sculptures by Renoir, Picasso and Modernist Brazilian authors, but also for the modern architecture of its building.

The world renown São Paulo Gay Pride Parade in May/June, the largest in the world, and the São Silvester Road Race on New Year's Eve take place on Paulista yearly, just minutes from our front door.

Numerous education and cultural centers line Paulista Avenue, most notably being São Luis University and School, Casa di Cultura Italiana and Centro Cultural FIESP/CIESP which also houses the Teatro Brasileiro de Comedia, which distributes free tickets for its weekly performances.
Finally, Paulista is renown for its coffee shops, internet facilities, restaurants, luncheonettes, shops, and movie theaters. Some of the remaining historic mansions and banks are decorated during the Christmas season, and draw crowds for picture taking. Visualizza regole della struttura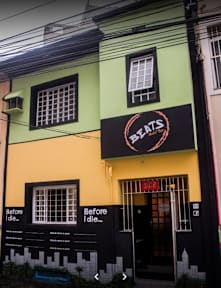 Accesso a Internet gratuito
WiFi gratis
Armadietti a chiave
Cucina
Doccie calde
Ferro ed asse da stiro
Lampada da lettura
Microonde
Ventilatore da soffitto
Accesso a Internet
Deposito bagagli
Reception 24 ore su 24
Servizio di pulizia
Sicurezza 24 ore su 24
Bollitore per tè/caffè
caffè
Distributori
---
---
La sua sessione è scaduta
La sua sessione è scaduta
Si prega di inserire la password per l'account <% email %>
Hai dimenticato la password?
×