Hostelworld.com
Group Booking Terms and Conditions
Because you are making a Group Booking, there are additional Terms and Conditions that apply. Please read them and click 'I Accept' below to continue with your booking
General Group Booking Terms
By making a group reservation through Hostelworld.com you agree to the following terms and conditions as set by Hostelworld.com and as set by the hostel in question.
In order to make a group reservation on Hostelworld.com it is necessary to pay a deposit. The balance is due directly to the hostel according to their payment conditions.
The booking deposit is non-refundable.
Please note that any cancellations must be notified directly to the hostel at least 24 hours in advance of your scheduled arrival date, unless otherwise stated in the hostel's conditions.
Hostelworld.com are not responsible for changes or amendments to your reservation once it has been processed. All correspondence with regard to changes to your booking need to be dealt with directly with the hostel.
Cancellations for reservations must be made directly with the hostel and must conform with the individual hostels cancellation policy (see below)
It is your responsibility to pay the balance of your accommodation cost to the hostel in accordance with their payment conditions (see below). Failure to do so may result in your reservation being cancelled by the hostel.
Individual hostels may have special booking conditions relating to group stays, please read the hostel booking conditions carefully before making your reservation.
Hostel Specific Terms & Conditions
The remainder of the amount due will be charged to your credit card 1 week prior to arrival. Should numbers or room selection change, the per person deposit times the number of people who actually travelled will be deducted from the total accommodation charge levvied by the hostel.
The following group types are not accepted by this hostel: Junior / Primary School, Cultural Group If you have misrepresented the type of group you are booking for, your booking may be cancelled by the hostel."
Any cancellations resulting from agreement to these terms and conditions under false pretences will result in loss of deposit.
Per favore clicchi nella casella per mostrare di aver letto e capito i termini e condizioni.
É necessario accettare i termini e condizioni per confermare la prenotazione.
Cancellazione gratuita
Built in 1879 and steeped in tradition, the iconic Dunkirk Hotel in Sydney truly has been Pyrmont's local for almost 150 years. Formerly the Butcher's Arms Hotel, it was renamed in the 1940s to commemorate The Battle of Dunkirk.

This tired, rundown, and dilapidated old hotel underwent its first refurbishment in over 17 years during the first calendar quarter of 2020 - including its cellar, Main Bar, Garden Bar, Pool Room, as well as a new VIP Lounge now located at the front of the hotel on Harris Street. The hotel's bottleshop has had an upgrade and now stocks an extensive range of beer, spirits, wine, sparkling and champagne. Further plans in 2021 include a complete restoration to the hotel's facade, as well as to our 12 accommodation rooms. We've been excited to see our old girl return to her former glory and to celebrate the immense history of this heritage-listed pub.

Come and see for yourself why the Dunkirk Hotel truly is Pyrmont's local. Visualizza regole della struttura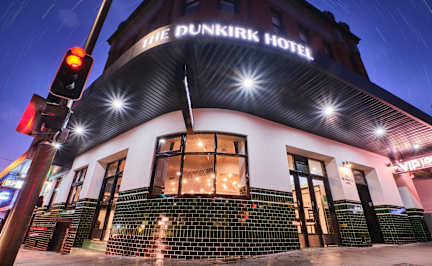 Asciugamani inclusi
Lenzuola incluse
WiFi gratis
Freezer
Segue la guida ai servizi igienici Covid-19
Ventilatore da soffitto
Accesso a Internet
Check - in/out veloce
Reception (orari limitati)
Servizio di pulizia
Bar
Bollitore per tè/caffè
Café
Ristorante
---
---
La sua sessione è scaduta
La sua sessione è scaduta
Si prega di inserire la password per l'account <% email %>
Hai dimenticato la password?
×