Hostelworld.com
Group Booking Terms and Conditions
Because you are making a Group Booking, there are additional Terms and Conditions that apply. Please read them and click 'I Accept' below to continue with your booking
General Group Booking Terms
By making a group reservation through Hostelworld.com you agree to the following terms and conditions as set by Hostelworld.com and as set by the hostel in question.
In order to make a group reservation on Hostelworld.com it is necessary to pay a deposit. The balance is due directly to the hostel according to their payment conditions.
The booking deposit is non-refundable.
Please note that any cancellations must be notified directly to the hostel at least 24 hours in advance of your scheduled arrival date, unless otherwise stated in the hostel's conditions.
Hostelworld.com are not responsible for changes or amendments to your reservation once it has been processed. All correspondence with regard to changes to your booking need to be dealt with directly with the hostel.
Cancellations for reservations must be made directly with the hostel and must conform with the individual hostels cancellation policy (see below)
It is your responsibility to pay the balance of your accommodation cost to the hostel in accordance with their payment conditions (see below). Failure to do so may result in your reservation being cancelled by the hostel.
Individual hostels may have special booking conditions relating to group stays, please read the hostel booking conditions carefully before making your reservation.
Hostel Specific Terms & Conditions
The remainder of the amount due will be charged to your credit card on arrival. Should numbers or room selection change, the per person deposit times the number of people who actually travelled will be deducted from the total accommodation charge levvied by the hostel.
The following group types are not accepted by this hostel: Junior / Primary School, High / Secondary School, Business Trip, Stag/Hen/Bachelor Party If you have misrepresented the type of group you are booking for, your booking may be cancelled by the hostel."
Any cancellations resulting from agreement to these terms and conditions under false pretences will result in loss of deposit.
Per favore clicchi nella casella per mostrare di aver letto e capito i termini e condizioni.
É necessario accettare i termini e condizioni per confermare la prenotazione.
Cancellazione gratuita
We have 3 private bamboo houses. You can sleep comfortably with two people and you share 2 hot showers and 2 normal toilets with the other guests in the bamboo houses.

The dormitory offers 8 single beds, 4 double beds and 1 triple bed. The beds are fairly private due to the fine architecture. The dorm shared 4 hot showers and 2 normal toilets.

Relax in our bar/cafe that opens daily from 07:00 till 22:00. We serve breakfast, lunch and dinner. Besides we have home made fresh juices, local drinks, beers, Javanese wine, soft drinks and snacks. And, enjoy free WiFi.

Ask our friendly staff anything you wish, including help with the extension of your visa. The staff also runs local tours.

Visit the orphanage that we support (not only with money), learn how to cook a traditional Javanese meal, cycle your way around, walk around the city with a student (free), or refresh at Malang its southern beaches. Malang regency has a lot of hidden spots. Visualizza regole della struttura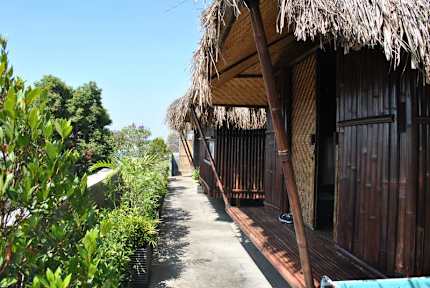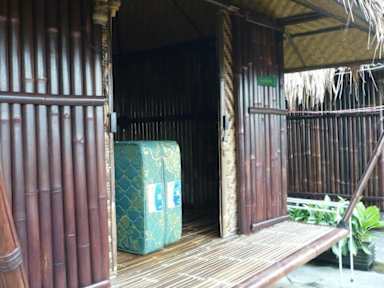 Accesso a Internet gratuito
Lenzuola incluse
Mappe di citta'gratuite
Parcheggio gratuito
WiFi gratis
Armadietti a chiave
Ascensore
Colazione non inclusa
Doccie calde
Parcheggio
Scambio di libri
spazi comuni a disposizione
Terrazza fuori
TV via cavo
Ventilatore da soffitto
Accesso a Internet
Asciugamani a noleggio
Deposito bagagli
Laundry Facilities
Noleggio Biciclette
Reception 24 ore su 24
Servizio di pulizia
Sicurezza 24 ore su 24
Tours/Travel desk
Bar
caffè
Pasti disponibili
Ristorante
---
---
La sua sessione è scaduta
La sua sessione è scaduta
Si prega di inserire la password per l'account <% email %>
Hai dimenticato la password?
×