Hostelworld.com
Group Booking Terms and Conditions
Because you are making a Group Booking, there are additional Terms and Conditions that apply. Please read them and click 'I Accept' below to continue with your booking
General Group Booking Terms
By making a group reservation through Hostelworld.com you agree to the following terms and conditions as set by Hostelworld.com and as set by the hostel in question.
In order to make a group reservation on Hostelworld.com it is necessary to pay a deposit. The balance is due directly to the hostel according to their payment conditions.
The booking deposit is non-refundable.
Please note that any cancellations must be notified directly to the hostel at least 24 hours in advance of your scheduled arrival date, unless otherwise stated in the hostel's conditions.
Hostelworld.com are not responsible for changes or amendments to your reservation once it has been processed. All correspondence with regard to changes to your booking need to be dealt with directly with the hostel.
Cancellations for reservations must be made directly with the hostel and must conform with the individual hostels cancellation policy (see below)
It is your responsibility to pay the balance of your accommodation cost to the hostel in accordance with their payment conditions (see below). Failure to do so may result in your reservation being cancelled by the hostel.
Individual hostels may have special booking conditions relating to group stays, please read the hostel booking conditions carefully before making your reservation.
Hostel Specific Terms & Conditions
The remainder of the amount due will be charged to your credit card ???? Should numbers or room selection change, the per person deposit times the number of people who actually travelled will be deducted from the total accommodation charge levvied by the hostel.
The following group types are not accepted by this hostel: Holiday with Friends, Junior / Primary School, High / Secondary School, College / University, Business Trip, Stag/Hen/Bachelor Party, Sports Group, Cultural Group If you have misrepresented the type of group you are booking for, your booking may be cancelled by the hostel."
Any cancellations resulting from agreement to these terms and conditions under false pretences will result in loss of deposit.
Per favore clicchi nella casella per mostrare di aver letto e capito i termini e condizioni.
É necessario accettare i termini e condizioni per confermare la prenotazione.
Cancellazione gratuita
Ideally located in the old city center, near the Brancaccio Theater, the Basilica of Santa Maria Maggiore and Termini Railway Station. You can take the Metro A and B to easily reach the main sightseeings in Rome.

Poliziano Inn has a very friendly and willing staff always ready to provide any information about Rome. Our goal is not only to make you love our B&B but also the 'Eternal city'.

Poliziano Inn provide to give you key of property so you can enjoy Rome by night.

Poliziano Guesthouse has a laundry service, internet access, TV, free maps and breakfast, which is served in a restaurant close by.

All the amenities you need for an unforgettable holiday in Rome at cheap prices! We're looking forward to see you in Rome...obviously as our guest at Poliziano Inn Guesthouse!

Please note:
Cancellation Policy: 72 hours, late cancellations and no shows will be charged the amount of the first night

Please note - All bookings require a valid credit/debit card in order to be secure. We pre-authorise cards after the booking is made. If the pre-authorisation is not successful, the property will ask you for a valid card with sufficient credit, and if you are unable to provide a valid card, the property reserve the right to cancel your booking. 

Check in time: 13 am - 11pm
Check out time: 10.30am


City tax 3.50 euros per person per day is not included
Credit Cards not accepted
Late check in will be charge 30€

Reception is not present 24h, it is therefore necessary to observe the arrival time indicated at the time of booking, or modify it by contacting the property directly Visualizza regole della struttura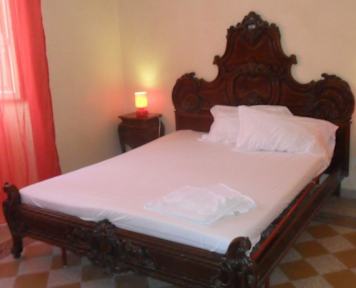 Ultime recensioni
Если вы хотите отдохнуть в чистоте тепле и уюте вам сюда! Очень вежливый персонал помогли сориентироваться на карте, посоветовали куда пойти-что посмотреть, утром приходит русско говорящая девушка. Прекрасное место нахождение 5 минут пешком до главных достопримечательностей! Цена полностью оправдалась! Одним словом осталась довольна! Спасибо!

Moldavia, Femmina, 18-24

L'accoglienza e la professionalità dell'albergatore é veramente super professionale, il prezzo é un po' alto

Italia, Femmina, 41+

In una stanza da cinque letti c'è solo una presa per il telefono!

Italia, Femmina, 25-30

Davide è gentilissimo e disponibile. La posizione dell'appartamento è ottima. A due passi dal Colosseo e dalla fermata della metro Vittorio Emanuele. Non è un vero e proprio ostello e non ci sono sale in comune. La pulizia lascia molto a desiderare: molliche sul letto (meno male che le lenzuola vengono date pulite all'arrivo), polvere e bagno, da condividere in 6 persone, non proprio splendente. Colazione con cornetto e cappuccino in un bar affianco. Ottimo per low budget, per passare una notte.

Italia, Femmina, 31-40

Ho dormito su un lettino smontabile basso e scomodo pieno di macchie. Mi hanno dato le lenzuola da mettere quindi ho avuto modo di vedere come facesse schifo anche il cuscino.Allo stesso prezzo(molto basso)ci sono strutture decisamente più decenti, non mi aspettavo un 5 stelle, ma nemmeno così tanta tristezza. C'è sono una presa per 6 letti. Ero lì solo perché stavo cercando un alloggio, ma se fossi stata in vacanza me l'avrebbe rovinata. Suggerisco l'acquisto di una presa multipla

Italia, Femmina, 25-30
Vedi tutte le recensioni
Asciugamani inclusi
Mappe di citta'gratuite
WiFi gratis
Ascensore
Asciugacapelli
TV via cavo
Ventilatore da soffitto
Servizio di pulizia
Trasferimento dall'aeroporto
---
---
La sua sessione è scaduta
La sua sessione è scaduta
Si prega di inserire la password per l'account <% email %>
Hai dimenticato la password?
×